A pivotal role in continuous improvement of processes

Any organization that strives for the highest quality, best delivery times and the lowest operational costs, has professionals in every department that dedicate time to process improvement. These professionals are often certified Green Belts. They are involved in optimizing the daily operations of the department and are often pivotal in creating a required change of mindset to an improvement culture.

Green Belts are ambitious and they can combine their Lean Six Sigma knowledge with their experience to allow their organization to excel. For these reasons, a Green Belt course also greatly contributes to your career prospects.
Lean Six Sigma Green Belt training

The Lean Six Sigma Green Belt training is a 6-day course to train professionals to be process enhances. During the course, you will learn how to provide a substantial contribution to Lean Six Sigma projects and initiatives. Four days are focused on Six Sigma, teaching how to work in the DMAIC project structure. You will focus on understanding and implementing the various six sigma tools. Another 2 days are spent on Lean topics teaching how to identify waste in processes and eradicate this creating the flow you are looking for in every process.

The topics are covered in such a practical manner that you can apply what you have learned in the field immediately. You will find more detailed information such as the program and competency overview in our prospectus.

Request prospectus
On the basis of

827

reviews obtains The Lean Six Sigma Company with the service

Green Belt Training

a score of 9 out of 10.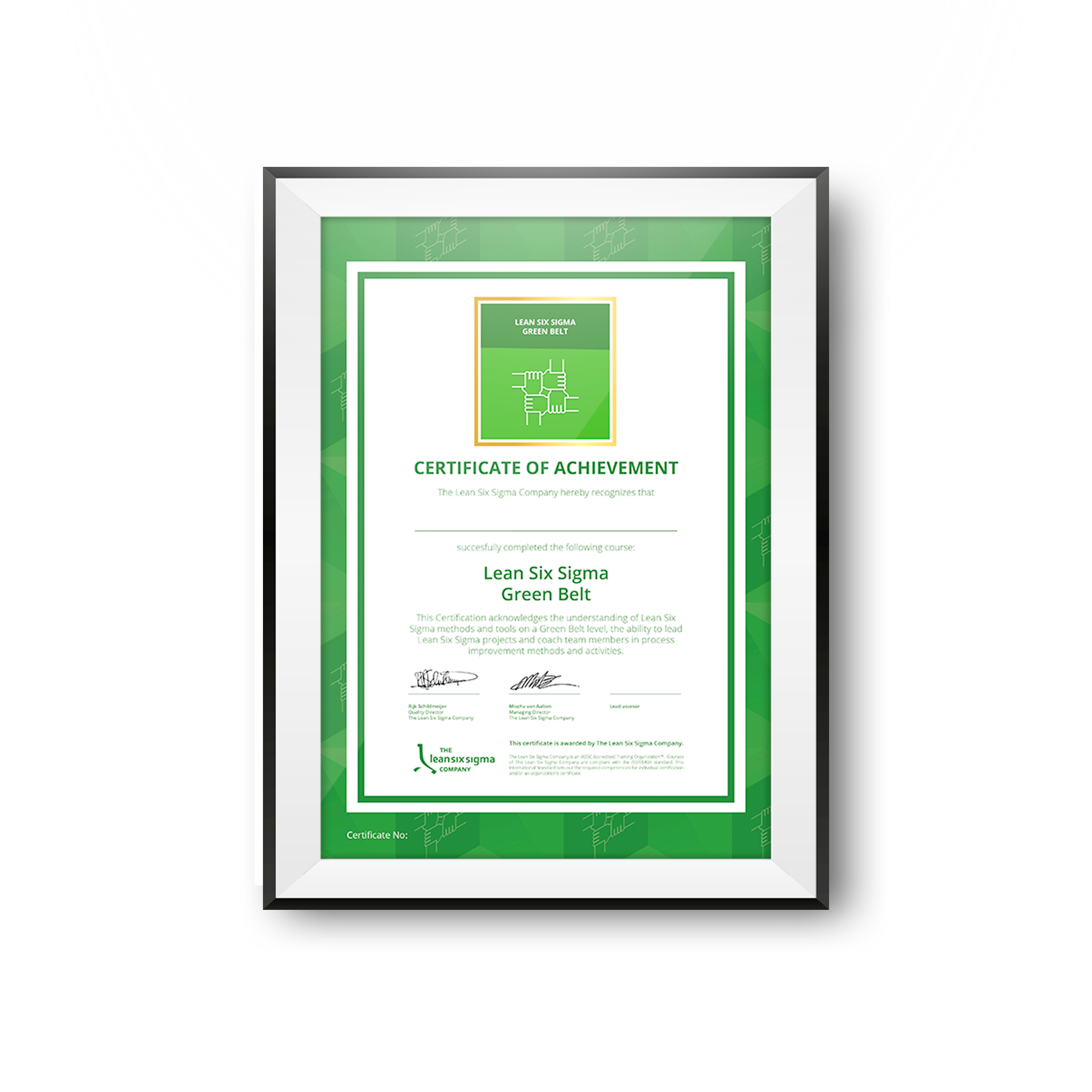 Practical information

Below you will find practical information about the program, the main topics, the price and the dates. Request our prospectus if you would like to know more detailed information such as times, the detailed program, the target audience and the purpose of the course.

The Lean Six Sigma Green Belt theory course consists is a 6-day program spending 2 days on Lean Management and 4 days on Six Sigma topics. Successfully completing the course will lead to Green Belt certification evidencing theoretical knowledge of Lean Six Sigma on a Green Belt level.

In addition to completing this course, we recommend following this theoretical course with a Practical Assignment which will enable you to objectively demonstrate practical experience in Lean Six Sigma. In essence, this assignment requires you to implement your knowledge and bring an improvement project to a successful conclusion. At the start of your assignment the Master Black Belt will determine if your project is suitable. The criteria on which the performance of the practical assignment will be assessed will be made transparent and are based on international standards.

Part 1 - Lean Thinking

2-day course covering Lean techniques such as:
5 principles of Womack
7 Wastes
Value Stream Mapping
Improvement tools like: Kanban, SMED, and Poka Yoke
These 2 days are built around a simulation.

Part 2 - Six Sigma

The next 4 days will cover the Six Sigma project structure and associated techniques. The main thrust of these days are:
Background of Six Sigma
Define phase: Selecting a project and determine customer demand
Basic statistics
Measure phase:Determine critical impact factors
Analyse phase: Root causes and analyzing data
Improvement phase: Generating solutions and piloting
Control phase: Control plan and project closure
Part 3 - Practical assignment

After passing theory exam, you are expected to complete your practical assignment. Under the guidance of your Master Black Belt you should complete a project that will have improved process according to the Lean Six Sigma standards as a result. Such project usually delivers hard benefits in the range of $10.000 to $100.000.




1. Lean Six Sigma Green Belt 6 day classroom theory course $3,200
Pricing includes:
Classroom tutoring by a Lean Six Sigma Master Black Belt

Course materials (reference book, slide pack)

Exam (and 2 re-exams if required)

Certification (evidencing Lean Six Sigma theoretical knowledge on a Green Belt level

Pricing does include F&B.
2. Practical Assignment $1,750
Pricing includes:
8 hours of coaching by your Lean Six Sigma Master Black Belt

Formats / tools overview

Project Assessment

Certification (evidencing Lean Six Sigma theoretical knowledge and practical experience on a Green Belt level)
What is the value of a Lean Six Sigma certificate?

Upon successfully completing a Lean Six Sigma training you will be awarded an 'official' certificate. How can you make sure this certificate represents the very value you were looking for. In the following video tutorial, it is explained what elements you have to take into account to determine the value of the certification provided. Learn more by clicking here.
Request prospectus

Request a prospectus for more information including a detailed programme, preparation, audience and examination.

In-company.
Lean Six Sigma in your company

Although Lean Six Sigma is best known as a project-based improvement structure, it is much broader than that. Lean Six Sigma is an established philosophy, an organisational and improvement structure as well as a set of tools. Using this perspective Lean Six Sigma addresses organisational issues with respect to competitiveness, cost reduction and customer satisfaction.

Depending on your ambition, Lean Six Sigma can be implemented in phases. Every organisation is unique, without a common blueprint that universally applies. Together with you, The Lean Six Sigma Company will develop a plan of action tailored to your organisation.

Contact usContinue reading
Related Courses
Others showed their interest in these courses.