Lean Management experts

Is it your ambition to make an organization excel? The Lean Practitioner course is the course for energetic professionals wishing to improve processes without large-scale projects. The Lean management methodology is characterized by short improvement cycles through Kaizen events and A3 project management techniques.

"If you focus on costs, quality decreases. If you focus on quality, costs decrease."

The Lean practitioner is the driving force for Lean improvement projects and Lean implementations. A 'hands-on' professional with the ambition to develop the perfect process and inspire departments to do better and better every day. The Lean Practitioner has fully mastered the Lean tools, knows the Lean principles and inspires colleagues to work on improvements. Within organizations, Lean Practitioners are the specialists who, by working together, allow departments to excel and can enthusiastically pass on the principles throughout the organization.

Lean Practitioner course

During the three-day Lean Practitioner course, we cover all the material required to improve processes according to the Lean Management methodology. Especially in environments where there is little data available and quick, small-scale improvement projects can be done, the Lean Management method is the way to go. Improve fast and often. That is what a Lean Practitioner does. The course covers all the tools and principles, such as Kaizen, the 5 steps of Womack, the 7 Wastes and A3 project management.

The topics are covered in such a practical manner that you can apply what you have learned in the field immediately. You will find more detailed information such as the program and competency overview in our prospectus.

Request prospectus
On the basis of

472

reviews obtains The Lean Six Sigma Company with the service

Lean Practitioner

a score of 9 out of 10.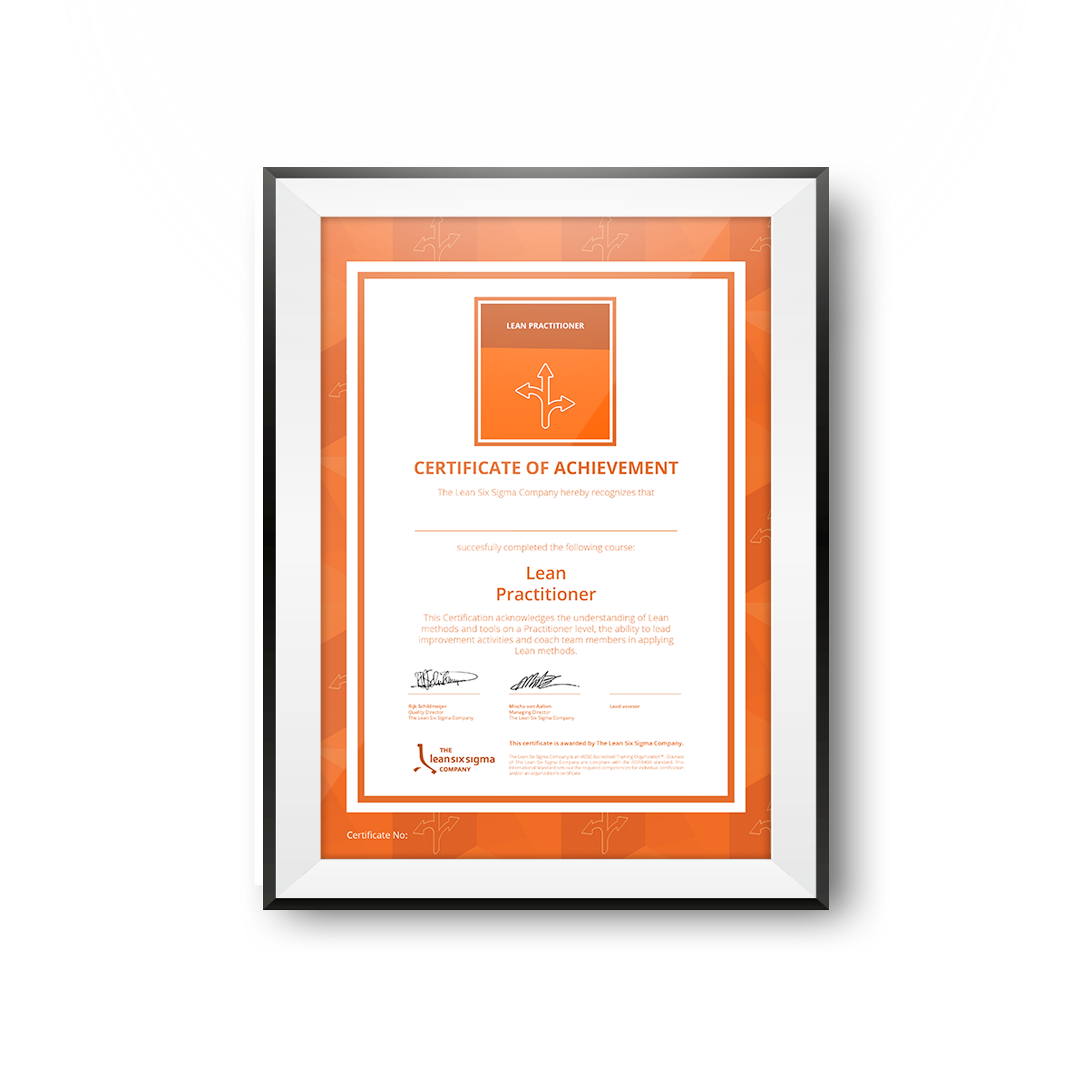 Practical information

The Lean Practitioner course is a practical course. The course consists of 3 days of theory and a number of interactive exercises. The Lean Practitioner training course starts nearly every second month. Those who already have a Lean Thinking certificate are exempt from the first two days. In the prospectus, you will find more information about the program and the practical assignments.

The Lean Practitioner course consists of three parts. During the first two days, you will learn which Lean techniques there are and how they relate to Womack's Lean roadmap including a workshop to show how Value Stream Mapping is properly employed to eliminate waste from a process. The last day delves deeper into Lean Management structure and the A3 project approach, in order to get a better understanding of Lean's success. And finally, you will need to apply what you have learned in the field, in order for us to certify you as a Lean Practitioner.



Part 1 - Lean Thinking

2-day course covering Lean techniques such as:
5 principles of Womack
7 Wastes
Value Stream Mapping
Improvement tools like: Kanban, SMED and Poka Yoke
These 2 days are built around a simulation.


Part 2 - Lean Management

2-day course about Lean Management. During these 2 days, we will focus on projects and Kaizen events execution. The falling subjects are covered:
Toyota Kata
A3 Project Management
14 Toyota management principles



Part 3 - Practical Assignment

After passing theory exam, you are expected to conduct continuous improvement projects based on Kaizen and A3 Management. Under the guidance of your Master Black Belt. Such project usually delivers hard benefits in the range of $10,000 to $50,000.


Lean Practitioner 3-day in-person or live virtual classroom theory course $1699

Pricing includes:

Classroom tutoring by a Lean Six Sigma Master Black Belt

Course materials (reference book, slide pack)

Exam (and 2 re-exams if required)

Certification (evidencing Lean Six Sigma theoretical knowledge on a Green Belt level)

Pricing does include F&B.
What is the value of a Lean Six Sigma certificate?

Upon successfully completing a Lean Six Sigma training you will be awarded an 'official' certificate. How can you make sure this certificate represents the very value you were looking for. In the following video tutorial, it is explained what elements you have to take into account to determine the value of the certification provided. Learn more by clicking here.
Next course

The next Lean Practitioner training available for public enrollment will be scheduled soon. Please send us an e-mail for more information. Group and company training can be scheduled any time. Contact us to discuss how we can bring Lean Six Sigma into your business.

5 February 2024, Online Remote Training

5 February 2024|6 February 2024|7 February 2024

Course venues
Request prospectus

Request a prospectus for more information including a detailed program, preparation, audience, and examination.
In-company.
Lean Six Sigma in your company

Although Lean Six Sigma is best known as a project-based improvement structure, it is much broader than that. Lean Six Sigma is an established philosophy, an organizational and improvement structure as well as a set of tools. Using this perspective Lean Six Sigma addresses organizational issues with respect to competitiveness, cost reduction, and customer satisfaction.

Depending on your ambition, Lean Six Sigma can be implemented in phases. Every organization is unique, without a common blueprint that universally applies. Together with you, The Lean Six Sigma Company will develop a plan of action tailored to your organization.

Contact usContinue reading